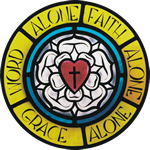 WHAT WE BELIEVE
The Trinity of the Godhead:
Father, Son, and Holy Spirit. They are one, in glory and majesty coequal, yet three in person.
Jesus Christ is our Lord and Savior:
He is both God and man. As such, He lived a holy and perfect life on earth but died on the cross in our place for our sins. He rose to life again on the third day. And at the end of time Jesus Christ will come again to judge the world.
All who confess Jesus receive full and free forgiveness:
It is by God's gracious and loving nature that He forgives and gives a new and eternal life to all who believe in Jesus as their Savior and Lord. Nothing we do or don't do will either commend us before God nor keep us from receiving His grace through faith.
The Holy Spirit brings us power for life:
He leads us to live lives marked with fulfillment and fruitfulness. The Christian life, marked with the presence of the Holy Spirit, gives joy and enrichment.
The Bible is the Inspired Word of God:
God has placed the Old Testament and New Testament there for our benefit. We accept the Bible as true and factual in all that it contains and as the only basis for all matters of faith and life. We invite you to learn with us the great truths that the Bible has for you.